Welcome to my personal web site!


Namche Bazaar Namche Bazaar, the gateway to the Everest Region for most trekkers, is the major regional trading center, and contains the headquarters of the Sagarmatha National Park


The man place where the sherpas live. It is famous for the highest peak of Mt Everest because the world highest peak is in Namche bazzar( kathmandu, Nepal). A really good place to spend vaccation with fresh food, fresh air and all. The place from where you can view all the mountain of Nepal.

If you all are planning to spend vaccation...Remember Namche Bazzar..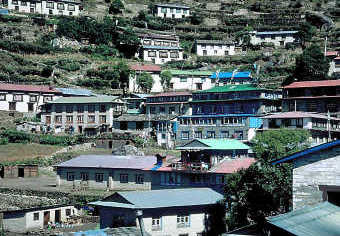 View of Namche Bazzar

Mt Everest

Trekking Agency of Nepal

Experience the beauty of Nepal with Himalayan journeys. They offer a selection of different treks in Nepal and Tibet plus adventures to Chitwan National Park,sagaramath National Park and Many more Places. Contact them about your special interest or preferred trekking area and they will provide a detailed trek description with a day-to-day itinerary. Adventure Himalayan Treks will also arrange custom-made peak climbing expeditions, cultural and educational treks.


Restaurent for Himalayan journeys traveller

More Picture of Nepal

Unknown Gem Type: tlx.bravenet.counter